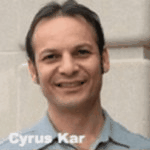 ABOVE VIDEO (Preview of "In Search of Cyrus the Great"): Cyrus (580-529 BC) founded Persia and is best remembered for his unprecedented tolerance and magnanimous attitude towards those he defeated.

When he conquered Babylon, he did so to cheers from the Jewish Community, who welcomed him as a liberator- he allowed the Jews to return to the promised Land. He showed great forbearance and respect towards the religious beliefs and cultural traditions of other races. These qualities earned him the respect and homage of all the people over whom he ruled.

Cyrus was praised by the Bible, the Cyropaedia, and John Locke. America's founding fathers broke with tradition and adopted Cyrus's model of 'benevolent government' for the United States' modern Constitution. Thomas Jefferson's personal copy of Xenophon's 'Cyropaedia' is on display in D.C.
Source: Producer of the Cyrus Film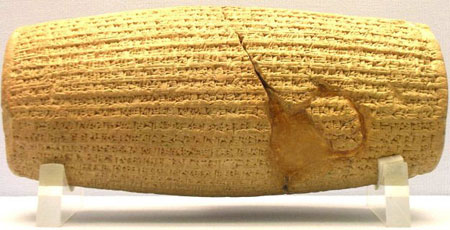 ABOVE PHOTO: Gender equality, religious freedom, and equal justice, considered "Western values" today, were protected mainstays of Persian culture. The writing on this baked, clay cylinder gives us a rare snapshot of Cyrus bestowing these very rights on the people of Babylonia after conquering it in October, 539 BCE. Today this cylinder is considered the world's first universal declaration of human rights and is considered by many as the precursor to the Magna Carta and the U.S. Bill of Rights. A replica is displayed at the United Nations in D.C.
More Info: San Diego & the Cyrus Connection